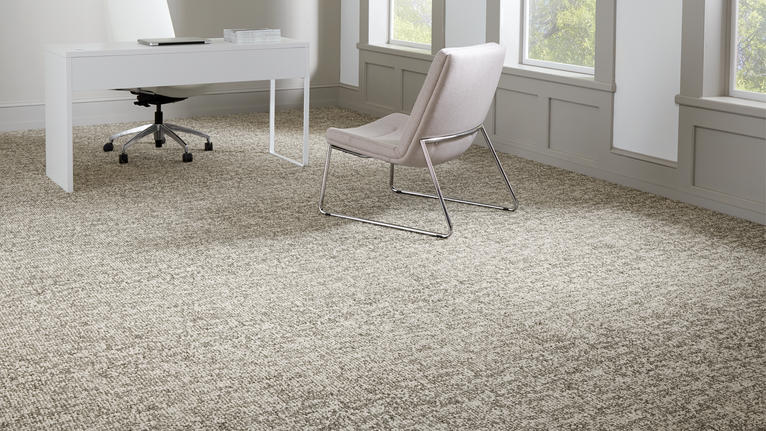 Commercial Carpet
Commercial Carpet
Powerbond, Modular, Broadloom and Woven. A portfolio of carpet platforms that offer coordinated styles, extensive colorways and a variety of patterns and textures that enhance the appearance of any commercial environment.
Modular Carpet
Tandus Centiva modular carpet is proven to perform. With inventive patterns and an extensive offering of fresh color palettes, our modular carpet works in tandem with all other Tandus Centiva products. Available in tiles and planks in varying sizes, our modular carpet is available in three different performance types: ethos® Modular with Omni-Coat Technology™, ER3® Modular and Flex-Aire™ Cushion Modular.
Powerbond®
Powerbond® hybrid resilient sheet flooring is a heterogeneous construction of nylon and closed-cell cushion. Fused together through heat and pressure, the layers are integral and inseparable. The innovative closed-cell cushion is the DNA of Powerbond and the single greatest component to its performance and design capabilities.  With 50 years of proven performance, Powerbond is an interiors icon, offering unique attributes perfect for any commercial interior environment.
Woven
Tandus Centiva's wovens represent the ultimate in luxury and performance, while offering interesting studies in texture and relief. Drawing on the weaving techniques handed down through centuries, our design team takes a modern approach to woven broadloom. Tandus Centiva wovens are perfect for any commercial application, offering an elegant, high end look in numerous designs and colors.
Broadloom
After more than 100 years, Tandus Centiva continues to produce award-winning broadloom with a flair for design and a reputation for superior quality.  Our tufted broadloom products epitomize smart design and performance and work in tandem with all other Tandus Centiva platforms.
Luminous
This unique, patented flooring solution combines robust LED lighting from Philips with light transmissive carpet specially developed by Desso. It's an innovation that fundamentally transforms the way people interact with a space, turning flooring into a dynamic canvas that engages directly with our senses and our natural inclination to seek out light. It brings a new found design freedom to architects and interior designers too, with countless application possibilities. Additionally, it is available for use with select resilient luxury vinyl tile products.