Principles lived by. Standards met.
Our commitment to a circular economy goes back a long way. Since 2011, we've been working with EPEA to make the principles of Cradle to Cradle® integral to how we do business. It means we not only question (and test) the environmental and social impact our products have in the here and now, but also, what impact they will have in the future. Because we see every product we make as an ingredient in a future manufacturing process. Minimizing the burden on the world and maximizing our positive impact.
Just another way we're
Doing Good. Together.
Our Cradle to Cradle certifications are awarded on five criteria: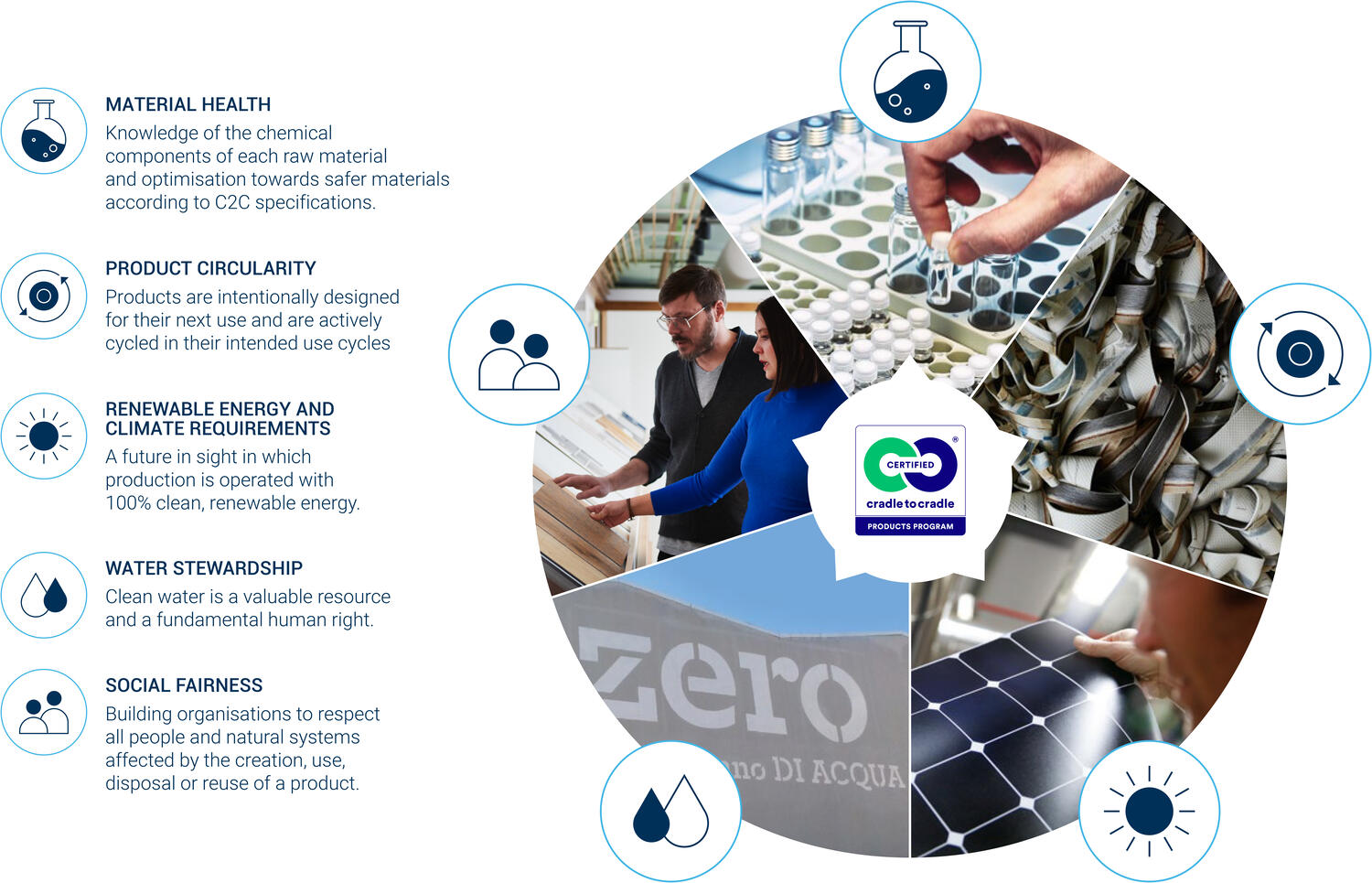 Linoleum floors: Cradle to Cradle Silver certification
Tarkett's linoleum is the world's first to be Cradle to Cradle certified for its sustainable approach. The compact linoleum range was Cradle to Cradle certified Silver in 2011 and still holds this status today.

In order to achieve this certification, the manufacturing process has to meet several requirements, in areas such as energy usage and water stewardship. The linoleum manufacturing site in Narni, Italy operates on a closed-loop water system that recirculates the water used in the cooling process and increases the share of renewable energy. The latest innovation in the linoleum range is LinoWall, the first and only approved linoleum wall covering, which is Cradle to Cradle certified Silver.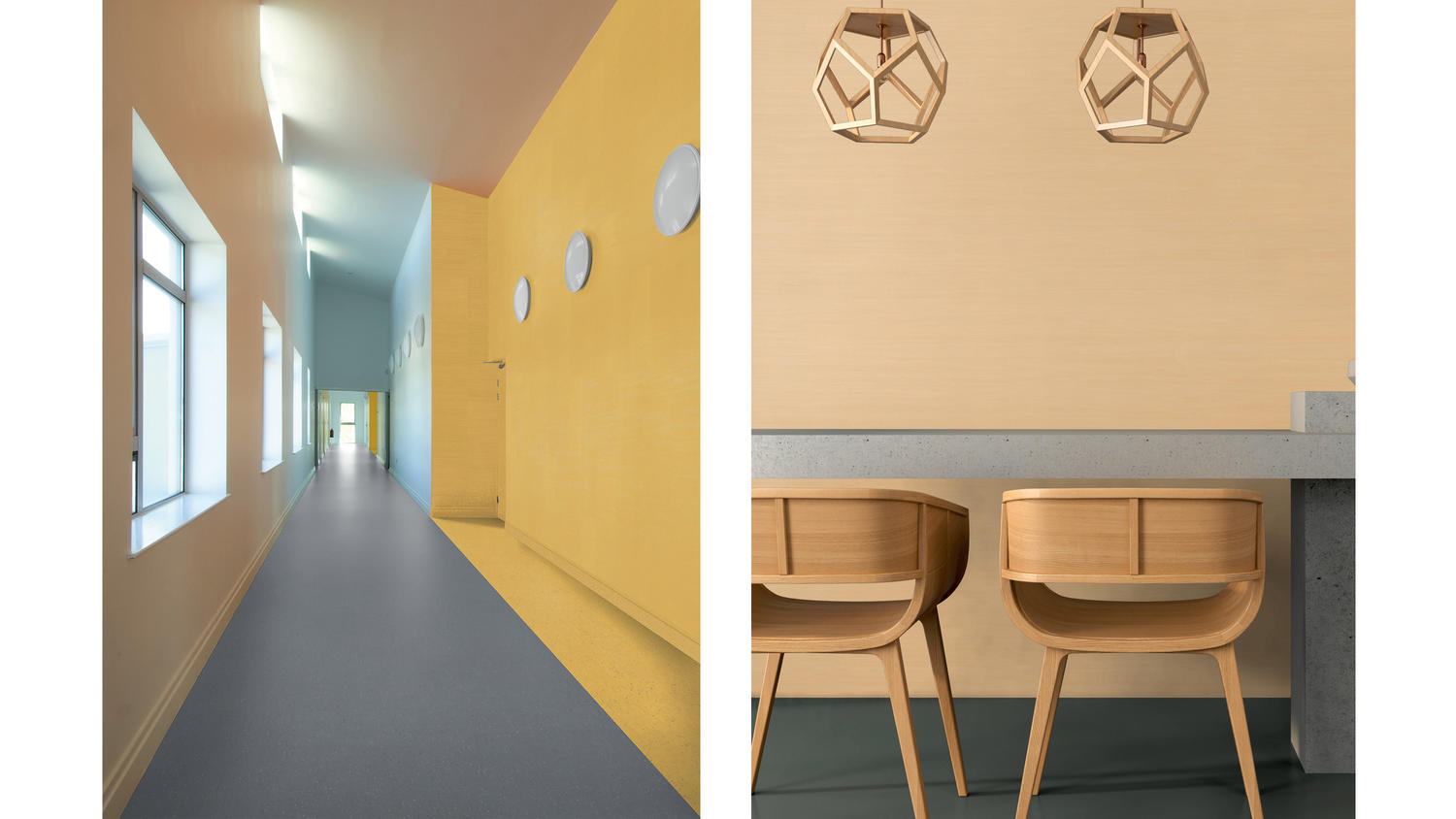 iQ One vinyl floor collection: Cradle to Cradle Gold certification
iQ One is the new generation of homogeneous non-PVC flooring and is perfectly balanced between aesthetics, flexibility and strength. iQ One benefits from a formula of plasticiser-free homogeneous thermoplastic flooring, while providing the same unique benefits that have made iQ One a recognised name for decades.

At Tarkett we are proud to have pioneered the world's first Cradle to Cradle certified Gold homogeneous flooring.
Rubber Tile: Cradle to Cradle Bronze certification
Tarkett has been awarded with the Cradle to Cradle Bronze for all of our rubber tile collections: solid rubber tile, Circulinity, Microtone, Minerality, Mesto, Organics, Prima, Prima Olio, Cork Tones.
Carpet: ethos® Carpet Tile Backing: Cradle to Cradle Silver certification
Made with 100% positively defined materials, Tarkett's ethos® modular carpet tile backing has achieved Cradle to Cradle silver-level certification. It contains at least 60% recycled content (upcycled PVB windshield film). The entire backing can be separated from the carpet tile. 
We're committed to creating a circular economy. Closing the loop on waste, preserving natural resources and reducing the impact of climate change.
Relentless scientific testing of materials and radical transparency for your peace of mind.
Leading the way in Indoor Air Quality, so you can breathe easy.
Adhesive & TarkettTAPE: Cradle to Cradle Bronze certification
Download our sustainability report