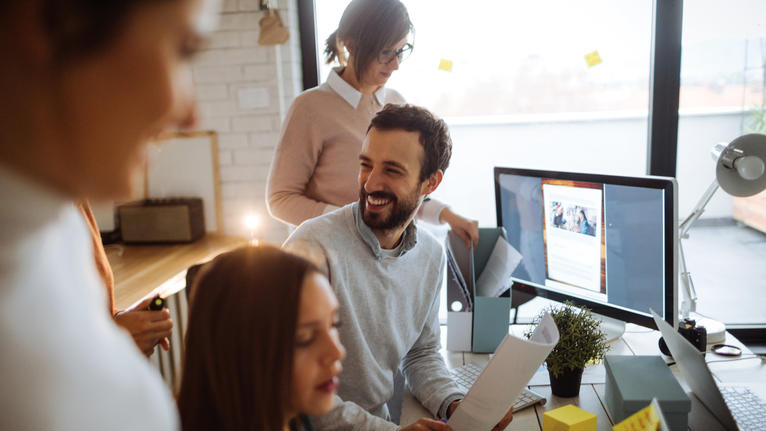 Discover Tarkett North America
At Tarkett, we believe that people are happiest when they are offered choices that help them balance their needs and stay faithful to their values. And that's true whether you are creating a vision for your home or designing a major acute care facility. That's why we've developed the world's most extensive system of flooring and services, so our customers – whether they are homeowners, architects or facility managers – can more easily accomplish the many balancing acts in life. Our floors are beautiful yet durable, easy to maintain and are comfortable so you and your clients can enjoy and be productive in everyday life.
With the wide variety of integrated flooring options we offer, we are sure that you will find the best solution with Tarkett. Tarkett produces a wide range of sustainable and coordinated floors in different materials and types such as modular carpet, broadloom and woven, vinyl, linoleum, rubber and laminate. In fact, Tarkett produces so many types of flooring, you've probably already lived, worked, played, studied or even recuperated on our flooring in your home, school, hospital, retail store or office.
We also celebrate our rich history, one that goes hand-in-hand with that of the flooring industry, because many of the names that have helped form Tarkett as a company are those that have shaped the flooring world for more than 100 years: Azrock, Johnsonite, Tandus, Centiva, Domco, Harris Tarkett and Nafco. And today we have grown to employ more than 12,000 people worldwide in 34 production centers and sales within over 100 countries.
For over a century, Tarkett has nurtured and grown into a clear industry leader with a passionate focus on simple, confident customer experiences. With size, resources and award-winning products for all market segments, Tarkett has a distinct understanding of your interior finish needs – for the home or for commercial use – so you can feel confident you've made the right choice with Tarkett.
Johnsonite
Balanced solutions for productive spaces.
As part of the Tarkett family, Johnsonite has delivered the broadest portfolio of high-performance, resilient flooring surfaces in the industry. With practical solutions and healthier materials that support every stage of the project—from specification to installation to maintenance—we're able to deliver measurable return on investment and beautifully functional spaces that support the people who live, learn, work and heal in them every day.
Tandus Centiva
Spaces that work. Designs that play.
As part of the Tarkett family, Tandus Centiva has developed a unique line of hard and soft surface flooring solutions that meet the needs of the most demanding commercial environments. With unmatched innovations for installation and maintenance, and a focus on Cradle to Cradle® principles, our cutting-edge designs work beautifully with the rest of the Tarkett portfolio to create beautiful, comfortable environments that invite and inspire.
Desso
Thanks to a combination of outstanding design, high quality and its own state-of-the-art production facilities, Desso is an international market leader in the hospitality sector.We are highly committed to our client relationships, working in focused teams with designers and project managers who closely supervise the project development process.
Desso supplies high-quality Axminster (in both broadloom and tile), ChromoJet print, hand-tufted and Wilton carpets to a wide range of 4- and 5-star hotel chains and individual hotels. All our product and design solutions, from custom carpets to our extensive library of ready-to-go carpet collections, are especially created for the hospitality sector.