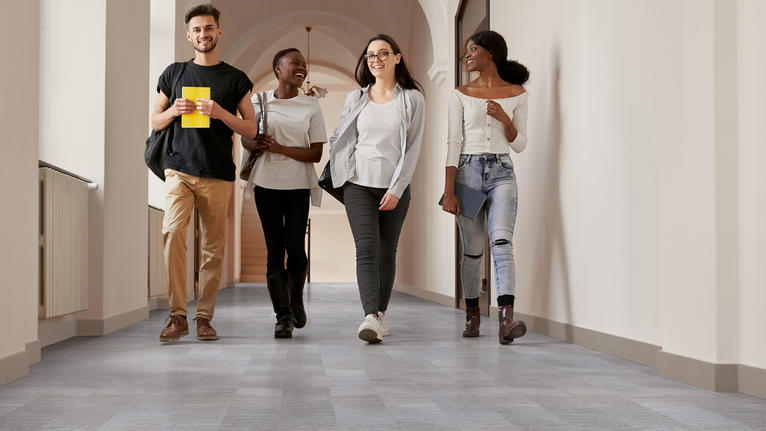 iD Latitude™ - Luxury Vinyl Flooring
Chart a new course.
We found the intersection of great design, lasting performance & practical affordability.
iD Latitude LVT flooring is the perfect combination of beautiful design, durable performance and unmatched value. Each style has been hand-selected by design professionals, and is protected by our proprietary, state-of-the-art Techtonic™ polyurethane coating over a 20 mil wear layer, so these stylish designs will look great for years to come. Plus, iD Latitude helps reverse the effects of climate change by being Carbon Neutral.
iD Latitude is now CERTIFIED asthma & allergy friendly®
Hear all about the benefits of iD Latitude including Carbon Neutral and Allergy and Asthma Certification!
Choose Carbon Neutral with iD Latitude
In addition to improving the health and wellness of the space with low TVOCs, every installation of iD Latitude™ helps to decrease our carbon footprint, reduce greenhouse gases and reverse the effects of climate change. We're offsetting carbon emissions and taking back our planet—together.
Tarkett's carbon offsets contribute to multiple global projects, including the reforestation of biodiversity hotspots in the Peruvian Amazon. Through our support of the Tambopata National Reserve and the Bahuaja-Sonene National Park, nearly 1.5 million acres have been protected and 10,000 acres have been restored—resulting in 4 million tons of CO2 being avoided.
By offsetting carbon emissions, we're addressing the single largest threat to the health of our planet and taking action against climate change.
Any space. Any segment.
With easy maintenance, forward-thinking visuals and super tough construction, iD Latitude is a great solution for nearly any space in any environment. From Education to Healthcare and Workplace to Hospitality, find designs that create inspirational spaces for learning, healing, working and escaping—while remaining mindful of installation and maintenance budgets. With a FloorScore® certification, this low-maintenance flooring ensures healthier indoor air quality for every end user.
Built to Last
iD Latitude LVT flooring combines a 20 mil wear layer with our proven, state-of-the-art Techtonic™ protection to deliver a more durable flooring for high-traffic areas. With 40% better scratch resistance than the tested leading competition and no scratch whitening, Techtonic is a massive shift forward in performance for hard surface floors. This advanced new polyurethane technology is super tough with a matte finish that resists scratching, abrasions, scuffing and staining—for safe and beautiful floors that stand up to the worst of wear. iD Latitude is designed and manufactured in the USA, helping us ensure and maintain the highest quality standards.
Top-Selling Designs
We've curated the iD Latitude LVT designs to include only the most fashion-forward, top-selling visuals—making the selection process easy.
iD Latitude Wood
Nothing adds visual warmth to a space like the look of natural wood grain. iD Latitude Woods include cool to warm tones, light to dark looks, and a variety of wood grain patterns for complete flexibility. This full suite includes a natural-looking surface for every design aesthetic—from contemporary oak and pine, to traditional cherry and walnut, to the distinctive details of craft maple, hickory and teak.
iD Latitude Stone & Concrete
Featuring a variety of linear, monolithic, and classic marble looks, iD Latitude Stones pair flawlessly with the rest of the collection to provide interesting borders and accents. Offering a combination of proven best-sellers and new, contemporary designs, each pattern includes subtle color and texture shifts that create beauty and movement, just as nature intended.
iD Latitude Abstract
iD Latitude includes best-selling Abstract designs that have been specifically colored to work with the rest of the collection, allowing you to mix and match them with wood and stone looks for added visual interest or helpful wayfinding. Two of our highest trending designs bring unique visuals that set any space apart: Color Grain delivers intense color, while Stria Marble creates a fusion of textures for a completely unique effect.