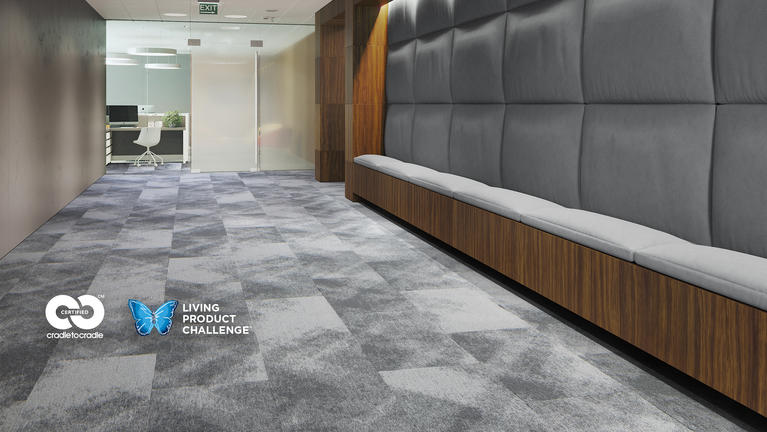 iD Latitude
Chart a new course.
We found the intersection of great design, lasting performance & practical affordability.
iD Latitude LVT flooring is the perfect combination of beautiful design, durable performance and unmatched value. Each style has been hand-selected by design professionals, and is protected by our proprietary, state-of-the-art Techtonic™ polyurethane coating over a 20 mil wear layer, so these stylish designs will look great for years to come.
Blockade & Soundblock
Using mathematical formulas as her guide, renown designer Jhane Barnes mastered the art of randomizing structured patterns and making them appear unpredictable. This concept was initially used years ago as a shirt in her collection for menswear, exclusively for Neiman Marcus. Using this same technique, Blockade and Soundblock offers a playful geometric design with seemingly random color placements. When installed as Powerbond, Blockade requires no matching at the seams for faster installation and minimal waste. 
Essentialist
Purpose. Intention. Simplicity. 
Practicing mindfulness and simplification.
The Essentialist Collection was created from our pursuit of a floorcovering that is, at its very essence, stripped down to beauty, performance and purpose. This carefully curated selection is meant to dissolve the work-life divide with a unique combination of texture, color, pattern and modularity. Three patterns are offered in their own coordinating palette, making the collection both comprehensive and streamlined. 
Interleave
A wave of Creativity. 
The soothing repetition of gently winding curves.
Like the gentle arc of ocean waves, nature's flowing curves bring peaceful rhythm and soothing repetition. Mathematicians call them sine waves. But you don't have to be a mathematician to appreciate their visual appeal—or the serenity they bring to a space.