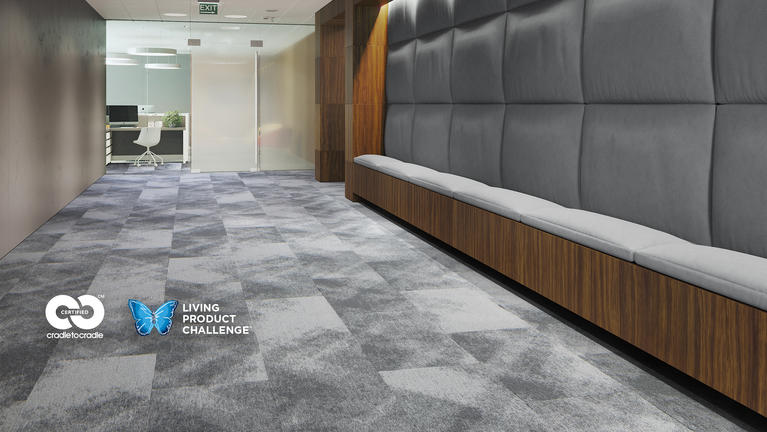 Latest Product Launches
Essentialist
Purpose. Intention. Simplicity. 
Practicing mindfulness and simplification.
The Essentialist Collection was created from our pursuit of a floorcovering that is, at its very essence, stripped down to beauty, performance and purpose. This carefully curated selection is meant to dissolve the work-life divide with a unique combination of texture, color, pattern and modularity. Three patterns are offered in their own coordinating palette, making the collection both comprehensive and streamlined. 
Interleave
A wave of Creativity. 
The soothing repetition of gently winding curves.
Like the gentle arc of ocean waves, nature's flowing curves bring peaceful rhythm and soothing repetition. Mathematicians call them sine waves. But you don't have to be a mathematician to appreciate their visual appeal—or the serenity they bring to a space.
Resonate + Capture
Fresh design. Flexible service. 
Good design is never a compromise. 
In a time marked by experiential design, professional and welcoming spaces have become the new business card. Resonate and Capture allow small businesses to quickly update offices and waiting areas with fresh new designs that make a memorable first impression. Both complementary patterns are offered in eight colorways and three standard tile sizes, with QuickShip convenience available for both styles in 9" x 36" planks with ER3® backing only.
Garden Walk
Inviting spaces for body, mind, and soul. 
Creating an atmosphere of betterment.
Using soft nuance and fluid movement, the Garden Walk Collection welcomes residents and guests with the warmth and comfort of home, creating an ideal setting for healing, living and leisure. This warm array of color and pattern gently alludes to organic materials from the outdoor environment and embraces the imperfect beauty of the natural world. Each sophisticated design carries deep, soothing tones that create a tranquil atmosphere and lends itself to feelings of well-being. Inviting, reflective and restorative, these spaces are designed for the overall wellness of body, mind and soul.