Pure protection for ultimate performance.
When guarding hard vinyl floors, less is more. Instead of unnecessary additives that lead to scratch whitening caused by the daily stresses of feet and furniture, our Techtonic™ product uses a proprietary polymer system—forming a naturally clear, verifiably stronger layer of protection against scratches, abrasions, scuffs and stains.
How Techtonic™ protection guards Tarkett LVT surfaces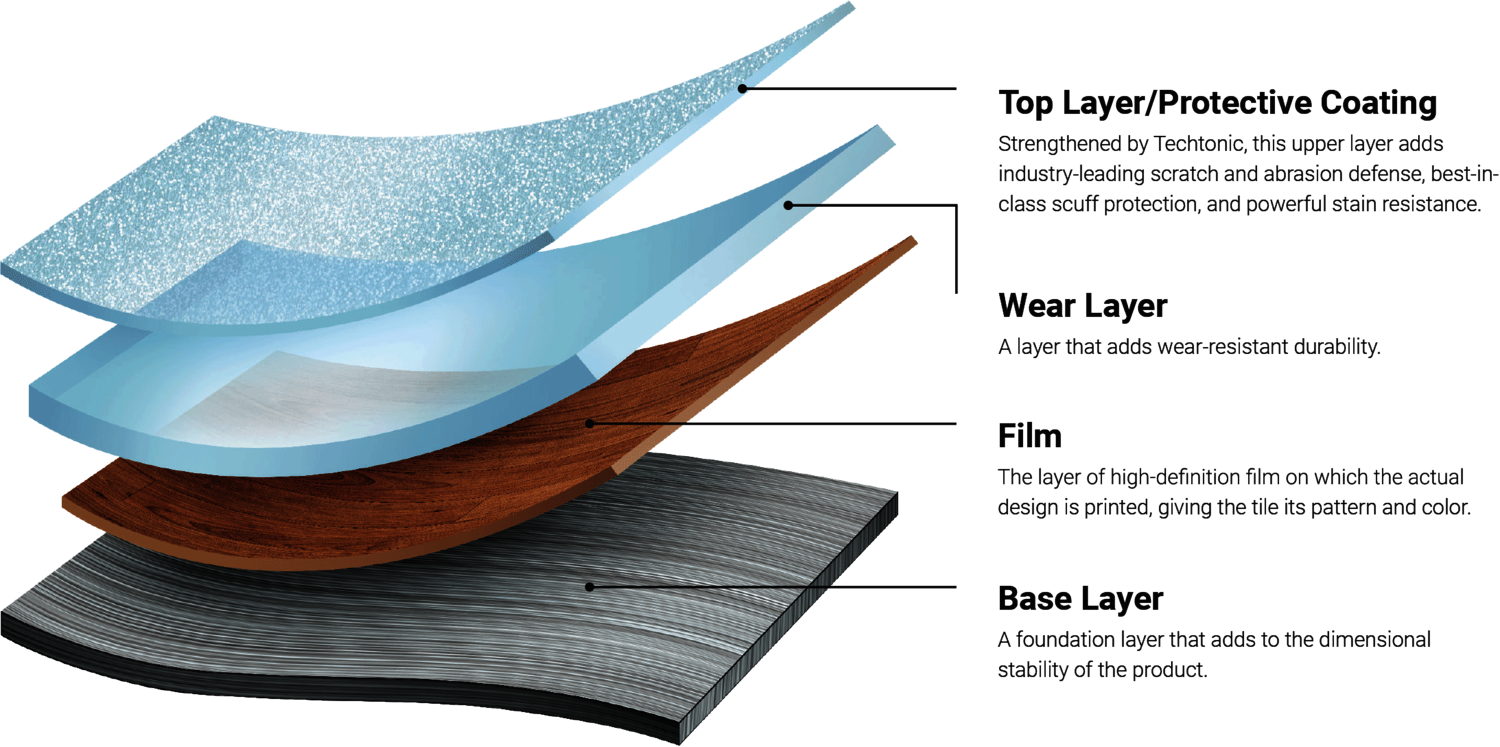 Tarkett Techtonic delivers unequaled resistance to scratches, abrasions and scuffs.
Every flooring product has a coating, but only Tarkett has Techtonic: a groundbreaking solution that strengthens durability, giving you better performance for the price. By mixing rugged protection with a beautiful matte finish, Techtonic keeps your floors' surfaces looking better and lasting longer.
Spend less time cleaning black marks (and more years enjoying spotless surfaces).
Those black marks from dragging shoes and chair casters? They're scuff marks caused by friction. No product on the market fights them better than Techtonic — a solution that keeps your floors performing better, year after year.
Now you can move furniture with more freedom—and less concern.
Surface sheen is worn away by repetitive actions in high-traffic areas, such as the movement of chairs and tables. By protecting surfaces, Techtonic preserves not just their sheen, but your peace of mind.
So you'll never have to choose between replacing a new floor, or living with the damage.
Just one exposed nail in the foot of a chair can scratch a new floor and produce whitening. In a series of laboratory experiments utilizing a diamond-tipped Taber Scratch tool, Techtonic performed significantly better than the industry market leader—withstanding greater pressure without scratching or scratch whitening.
Momentary mishaps shouldn't have permanent effects.
Techtonic's pure polyurethane coating provides an advanced level of security against stains, reducing the chances of damaged flooring (and expensive cleaning).
Techtonic vs. the industry leader
Developed by an international team and manufactured in North America, Techtonic offers best-in-class performance at an everyday price. In multiple tests, LVT topped with Techtonic repeatedly outperformed both our old protective coating and our #1 market-leading competitor.