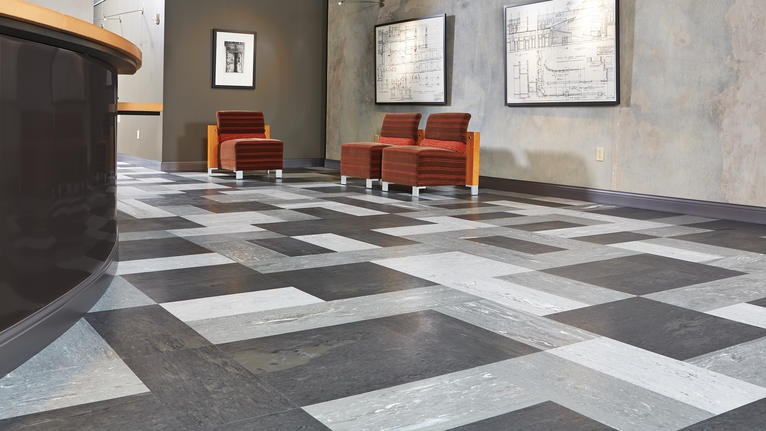 Resilient Commercial Flooring
Resilient Commercial Flooring
A coordinated and innovative system of rubber, vinyl, LVT, composition tile and linoleum.  All linked together in performance and aesthetic to create high performance environments and to deliver measurable return on investment in a sustainable way.
Rubber
Rubber flooring has it all.  Universally embraced for its practical beauty and a rare balance of function with aesthetics, safety with efficiency, and short term costs with lifetime return.  Rubber is naturally slip resistant and shock absorbent.  Easy to maintain and durable enough to perform for decades, rubber is available in a rich array of colors, patterns and textures.
Linoleum
One of the most natural and sustainable flooring solutions on the market, Tarkett linoleum has been appreciated for its natural beauty, comfort and durability for over 150 years. Following the original 1898 recipe, our linoleum is made from 94% natural raw materials and is treated with our unique xf²surface protection for extreme durability, easy cleaning and cost-effective maintenance. Tarkett linoleum is the world's first to be certified Cradle to Cradle.
Luxury Vinyl Planks and Tiles (LVT)
Luxury vinyl planks and tiles offer complete design freedom with endless layout possibilities across a broad range of patterns, colorways, quality levels and installation formats.  Modular in design and durable in construction, luxury vinyl flooring withstands heavy traffic and is easy to maintain with extra resistance to scuffs, scratches and stains.  For any segment, for any space, luxury planks and tiles is an optimized,
inspired solution.
Vinyl Sheet
Vinyl flooring is a versatile solution that combines a broad portfolio of patterns and colorways with high performance for schools, hospitals and other high traffic areas. From heterogeneous sheet composed of several layers, including a printed sheet for limitless design possibilities, to homogeneous sheet and tile with single layer, through pattern, Tarkett's portfolio is high performing and low emitting, contributing to a safe and healthy indoor environment.
Composition Tiles
A proven classic in flooring, composition tiles provide economic value and a multitude of patterns and quality options to optimize performance across a number of high traffic installation areas.  From the original vinyl composition tile (VCT), to vinyl enhanced tile (VET) and solid vinyl tile (SVT), composite tiles are budget friendly and withstand heavy foot and rolling traffic.  All our composition tiles are US-made and low-emitting, contributing to the safety and health of
every space.
Sports & Multi-Function Flooring
Many commercial spaces have to support and withstand abuse from a multitude of activities.  Today, multi-functionality rules.  The locker room may be connected to the weight room which is down the hall from the gym which can also be the cafeteria.  Our multi-function flooring solutions are designed to work under all kinds of activities.  Our rubber and vinyl solutions come in an array of colors, patterns, textures and
thicknesses.  Some can install without adhesives, locked
together like a jigsaw puzzle.
Specialty Applications
There are often special spaces within a commercial environment that need unique flooring solutions to optimize performance.  The spaces have special challenges.  Acoustics.  Enhanced slip resistance. Resistance to oil and grease.  Electrical resistance and static dissipation.  Safe egress. Tarkett's portfolio of specialty flooring will meet the unique demands of each and every space.